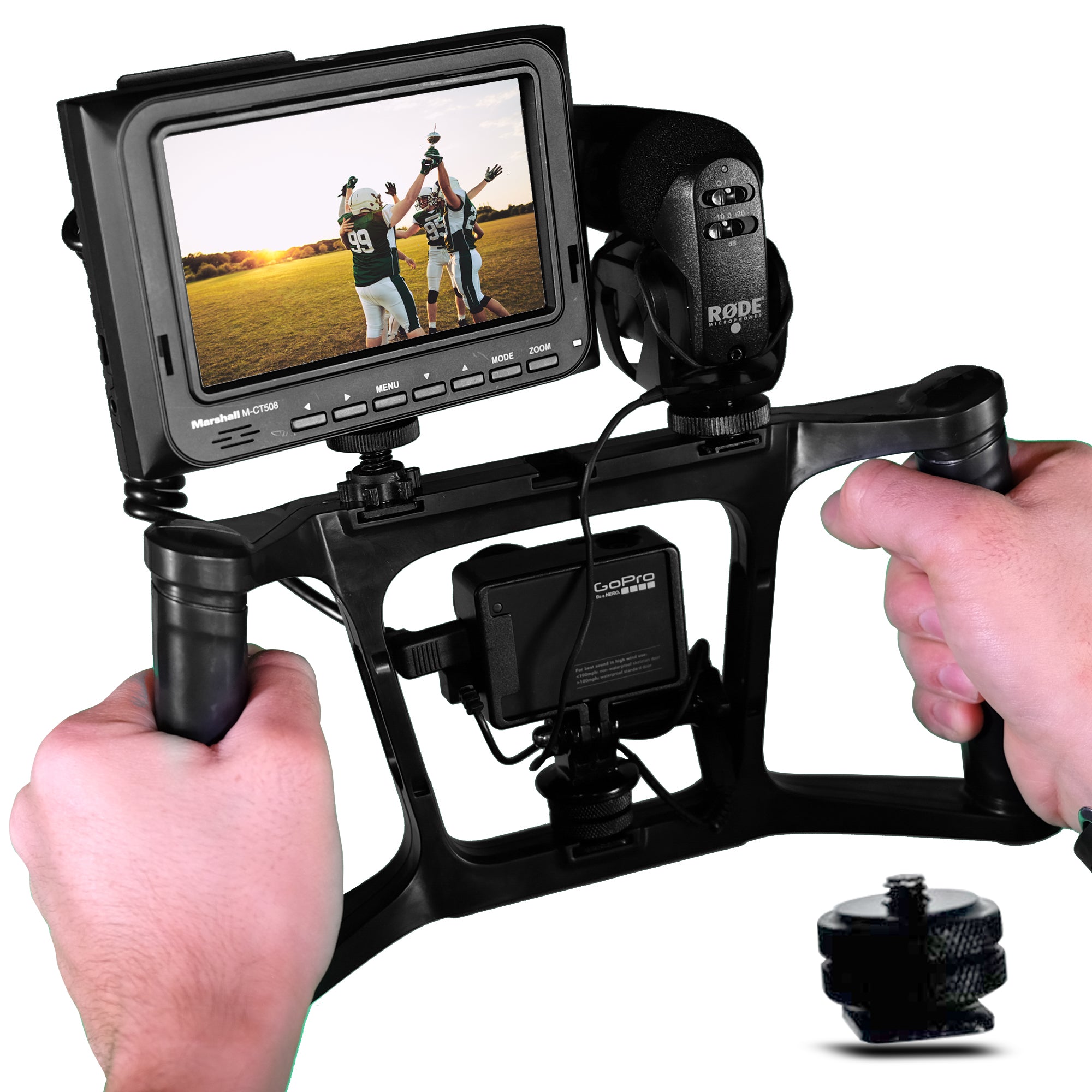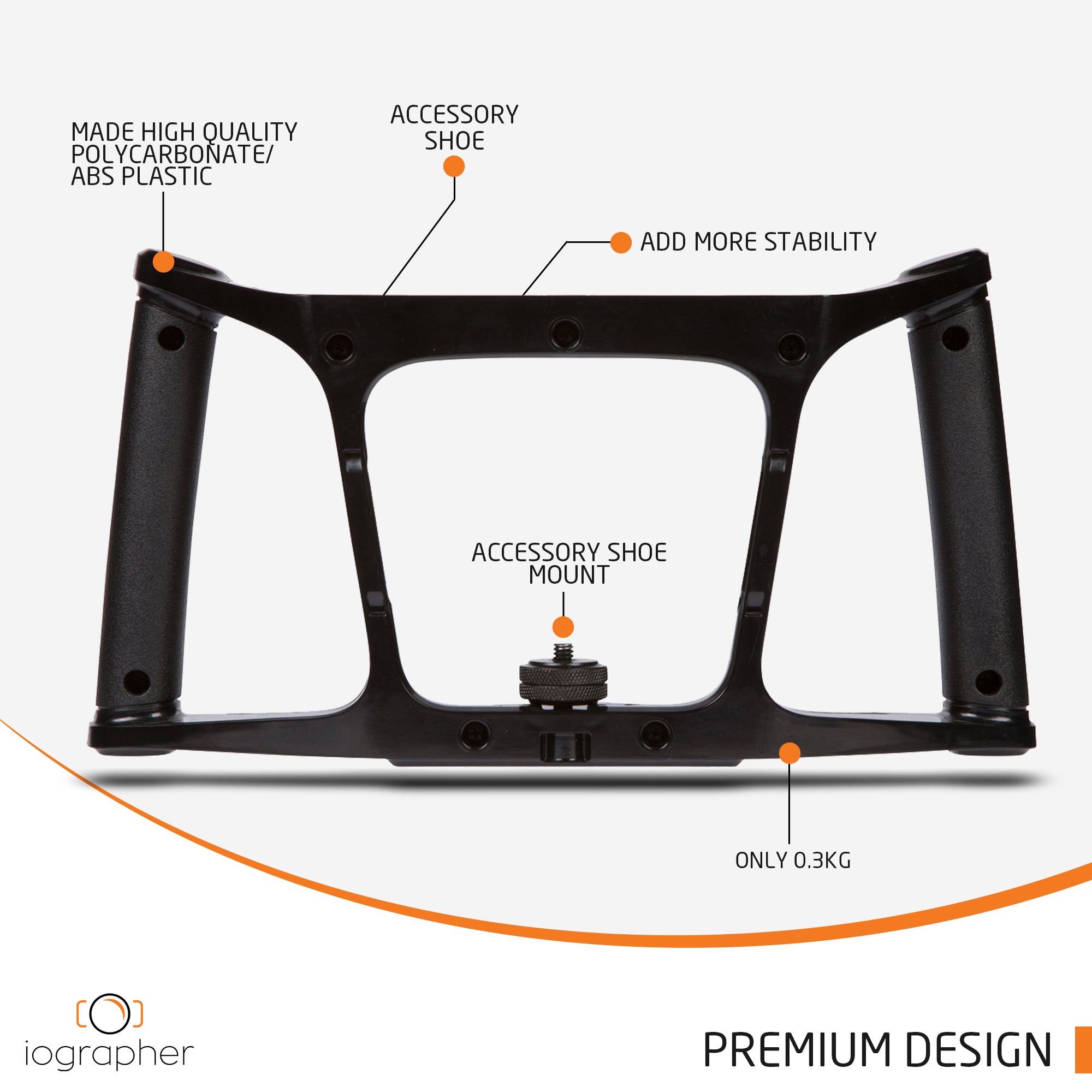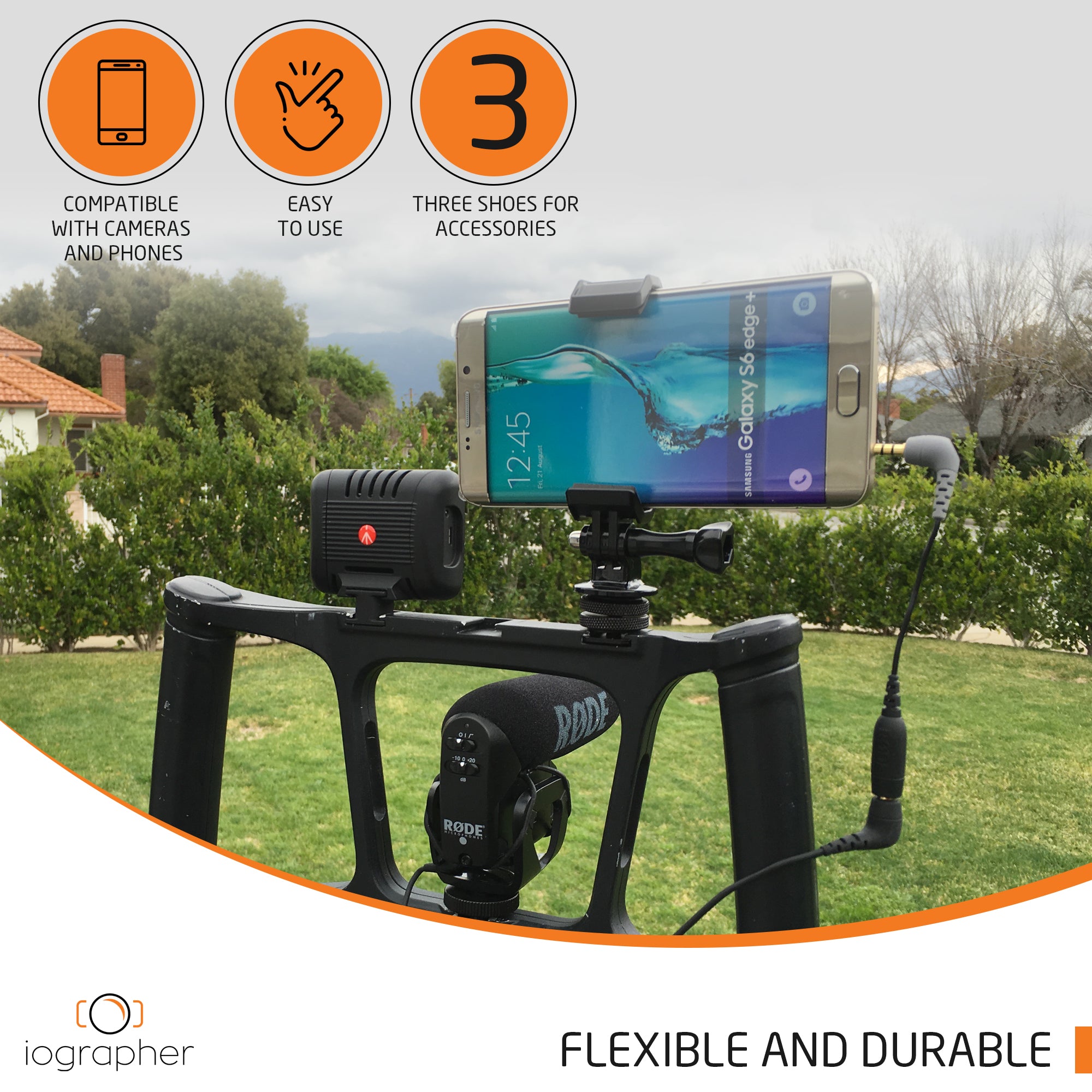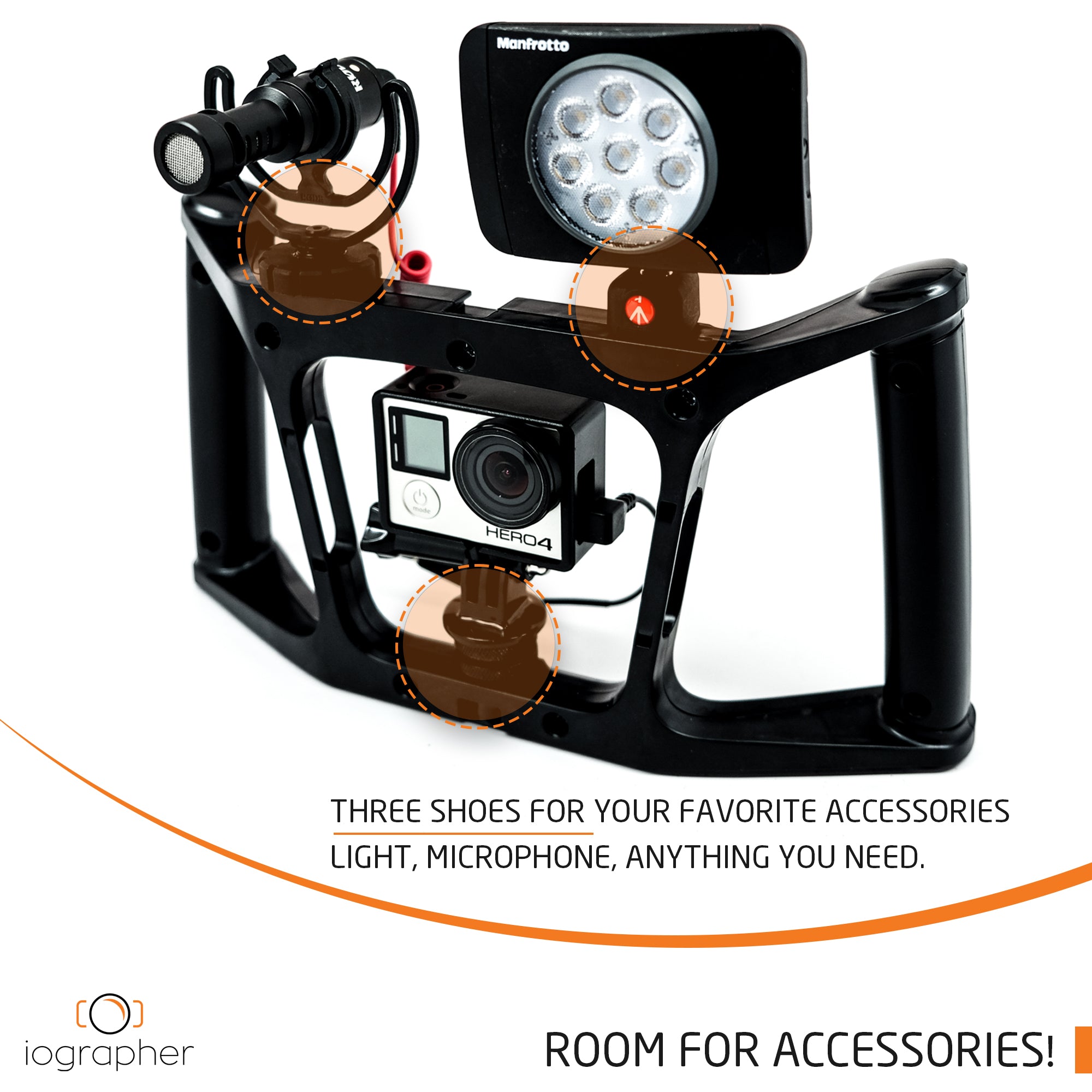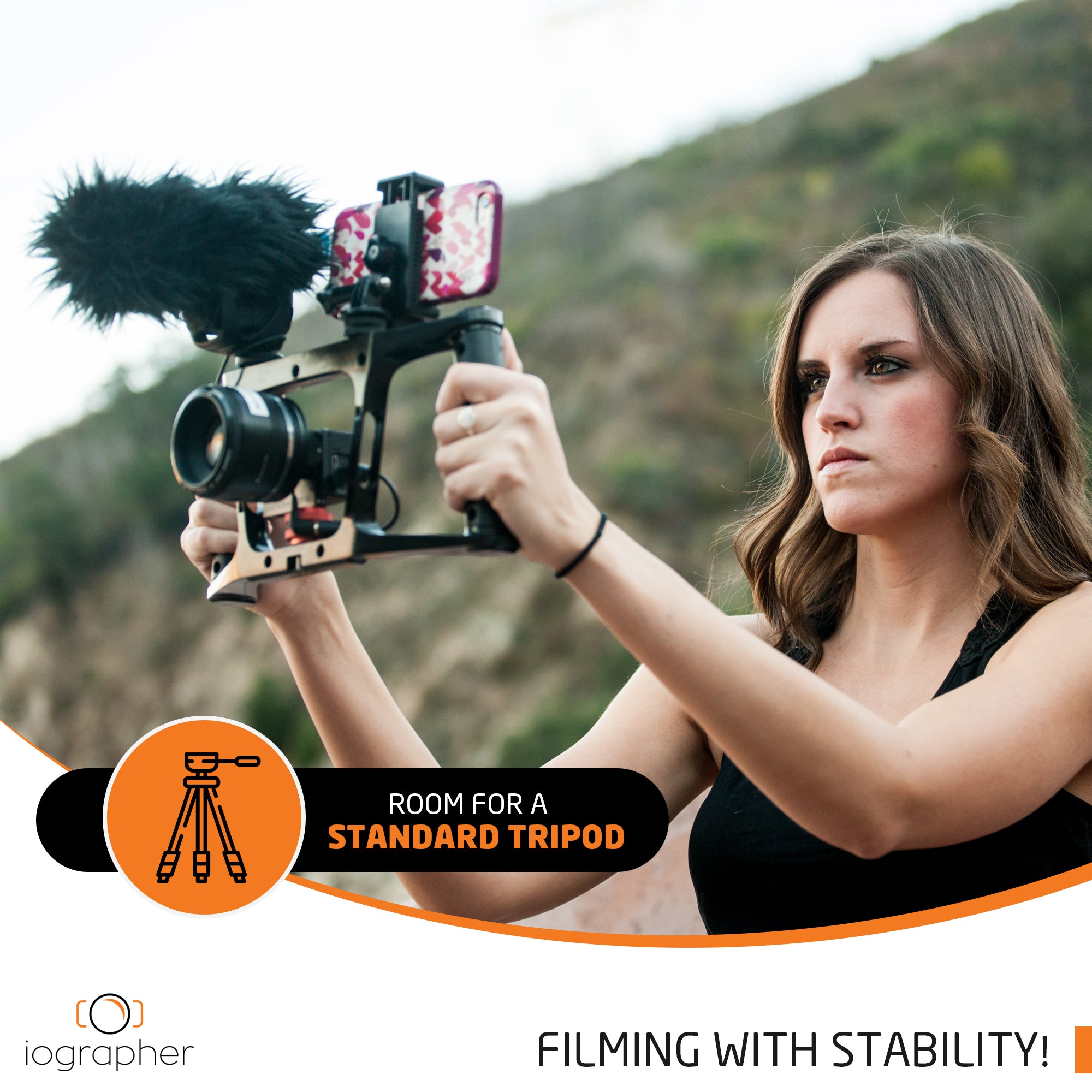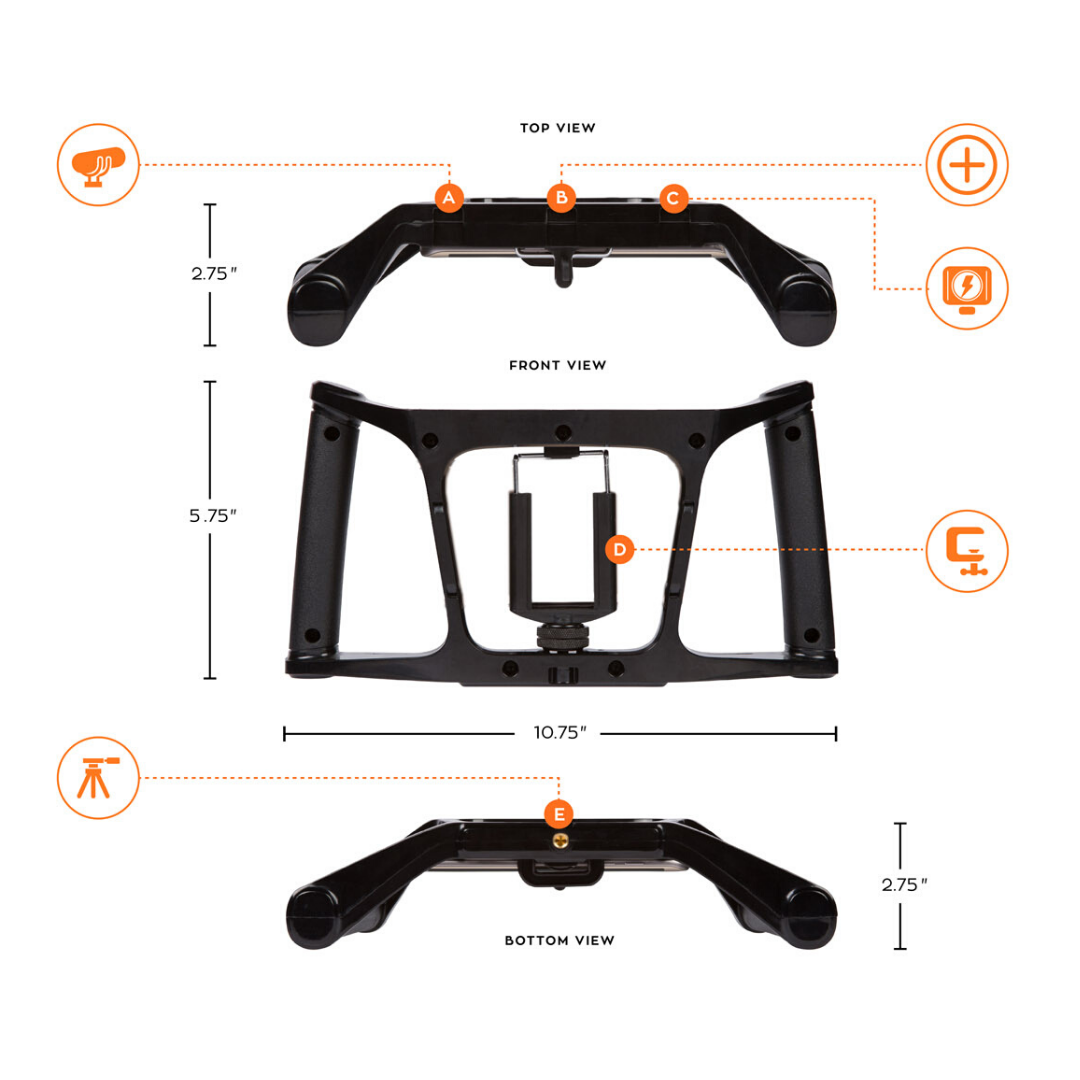 iOgrapher GO Action Camera Mount
---
Do you like making videos with an action camera? Are you looking for something to improve the experience and the result? We offer you the iOgrapher GO Action Camera Mount. This is a product that will let you shoot with much more stability and also has a lot of room for accessories. The quality of the materials and the usefulness of this item will surely be instrumental in bringing a much needed boost to the standard of your content and your creativity in general.

Filming with an action camera is fun and exciting, because it can provide a unique point of view, but there are a few disadvantages. Sometimes too much action can make things a bit too chaotic for the audience. With the help of our iOgrapher GO Action Camera Mount you can add more stability to your videos without taking away the excitement. It is a nice way to achieve that without paying a lot more money for professional stabilizers and similar equipment.

This product is suitable for people, who are just starting making videos, as well as for veterans of the craft. In order to let you use your full arsenal, the iOgrapher GO has three shoes for accessories. To make your videos even better you can attach your favorite light, your professional-grade microphone, a monitor or any other piece of equipment you need. There's even room for a tripod. It's easy-to-use and weighs only 0.3kg. The package includes a ¼ 20" accessory shoe mount.

Nowadays everyone has a profile on social media and most of us like to make videos. You can share them with friends for fun or you can try and make some money out of the whole thing. Our product can be a suitable birthday or holiday gift to a person with a creative knack. It can be very useful in making their videos better, more engaging and more exciting.

We made sure that only high quality polycarbonate/ABS plastic was used in the production of this item. It is made in the USA and the quality of the materials is a guarantee for its sturdiness, durability and long life. We are a brand that helps content creators find the best equipment they need. We also offer them some new and exciting gear. Our goal is to take care of the technical side of things, which will let you express your creativity more freely and effectively.

All things considered, we offer you a useful and efficient product with enough features and quality to be considered a definite purchase. We offer you all that at a very reasonable price. Add this item to your shopping cart and start making your best videos!
STANDARD SHIPPING

In-stock orders placed before 11:00 AM PST Monday through Friday will begin processing in 1 day. Orders placed after 12:00 PM PST may take up to 48 hours for processing. All orders placed on the weekend will be received for processing the following business day. Orders placed on holidays will begin processing the next business day. No holiday delivery is available. 

All BUNDLE orders do take 1 extra day for building.

Upon completion of order processing, the shipping information including tracking will be sent to you via email.

EXPRESS ORDERS

While Next Day Air shipping is available for all products purchased on iOgrapher's website, due to processing of your order and packaging, "Next Day Air" can take up to an additional 24 hours to fulfill and deliver. Please place your order accordingly to assure any rush purchase can be processed and shipped to you as expected.

PROCESSING

We ask that you allow 1-2 business days for order processing on all orders prior to shipping.

INTERNATIONAL ORDERS

We do ship internationally.

International shipping rates may vary depending on the country that we are shipping to. Typical transit time is between 7-15 business days, but occasionally items can experience customs delay of several weeks. When a package is in transit, tracking is not provided for your package, we can only confirm delivery.

Please be aware that there may be taxes, duties and/or VAT applied by customs towards your order before or after the delivery of your package. These charges are not inclusive of the original shipping or order charge and are unable to be paid for, predicted or reimbursed by iOgrapher.

Additionally, when ordering from iOgrapher.com, you are the importer and must comply with all laws and regulations of the destination country. You authorize us to designate a carrier to act as your agent with the relevant customs and tax authorities in the destination country, to clear your merchandise and advance (on your behalf) any duties and taxes owed by you.

All prices on our site are listed in US dollars, and charged in US dollars. The exact exchange rate that you will pay is determined by the bank that has issued your credit card, but in general it will match very closely with the going exchange rates. The following web page features a quick, easy, & free foreign exchange rate calculation using up-to-the-minute exchange rates: XE.com – Foreign Exchange Rate Calculator

Refused Shipments

If you decide to refuse any shipments from iOgrapher.com, you are responsible for the original shipping charges to you, any duties, taxes and/or customs charges that are incurred on the package (on both the original and return shipments), and the cost of returning the package to iOgrapher.com. This amount will be subtracted from your merchandise credit.

Lost/Missing PackagesiOgrapher LLC is not liable if the incorrect address is placed during the checkout process. Please make sure that your billing and shipping address is correct before processing your order. If we have made an error we will fully take responsibility of the original order that was made for you at no charge.

For details on our return, exchange or refund policies, please visit our Returns + Exchanges page >

Please Note: The return information listed above does not apply to wholesale accounts. For information regarding wholesale or dealer shipping terms, please contact us at; support@iographer.com
Our policy lasts 30 days. If 30 days have gone by since your purchase, unfortunately we can't offer you a refund or exchange.

To be eligible for a return, your item must be unused and in the same condition that you received it. It must also be in the original packaging.


To see our entire policy please click here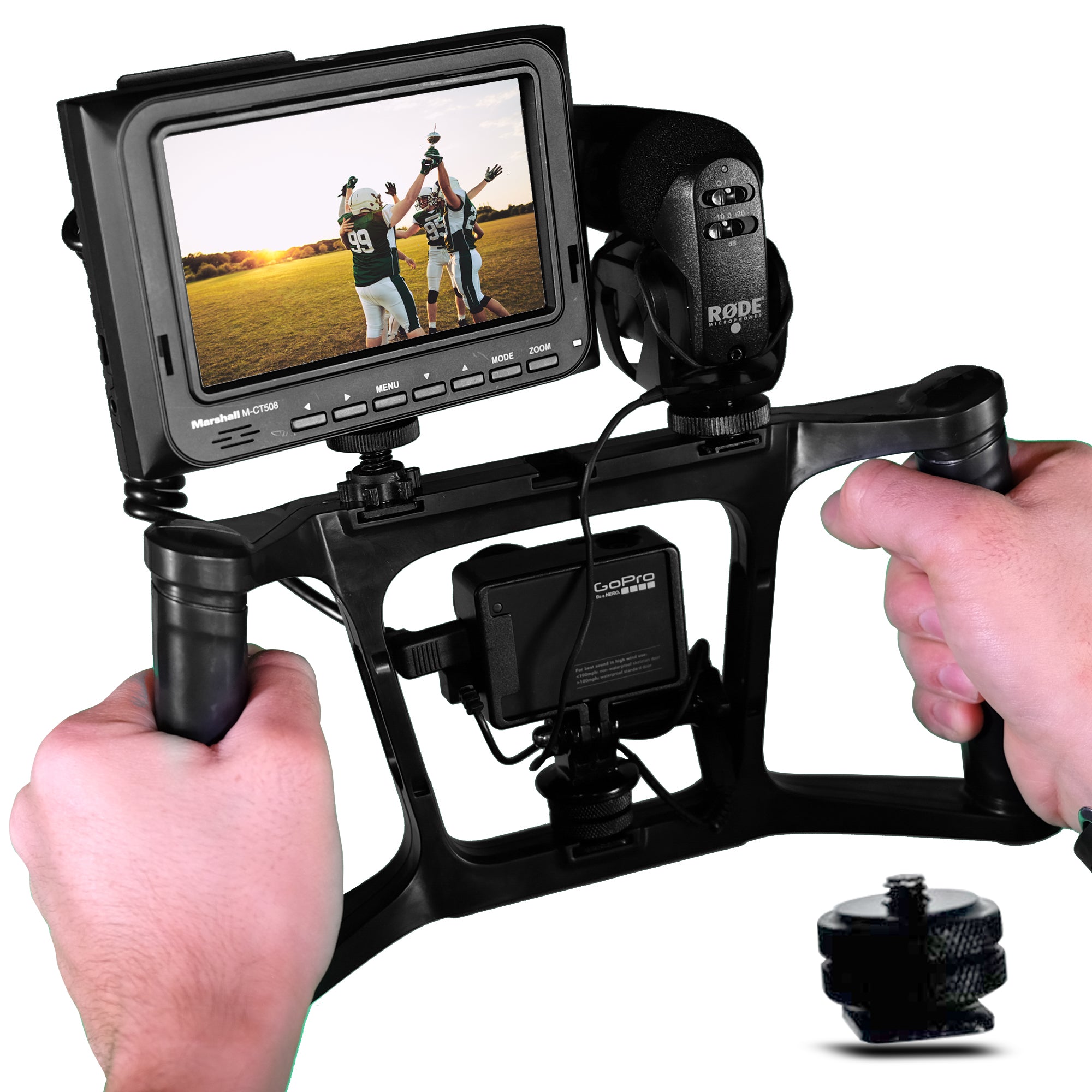 I use my new iographer iPad case/holder on the field while I train my athletes and in my office during virtual sessions.
I'm a golf instructor and use it with I pad to review golf swings. Players love it
I love iographer products and tell every photographer/videographer I know about the awesome tools of the craft
My husband is a television news anchor for NBC and has to broadcast from the house. We use this to hold the camera (iPhone) and it was perfect. Thank you for such a great product.
Have a question ?
We are here to help.
Check out the most common questions our customers asked.

Still have questions? 

Contact our customer support.
What is iOgrapher and why do I need it?

At iOgrapher, we create accessories for your mobile device to help you make better videos with your mobile device.

Our specialty is the iOgrapher case, which is the foundation for all the products we sell. Our case allows you to attach the filmmaking accessories you need, such as microphones, tripods, and lenses, and helps to stabilize your video.
How do I return and/or exchange?

Please click here to see our Returns and Exchanges page.
We ship worldwide from California. We also have distributors around the world, please click here to see our distributors.
Which iOgrapher case do I need?

See our iPad guide here to figure out which iPad model you have and which iOgrapher case fits.
This product has no reviews yet.